Grand Theft Auto V has a wide variety of weapons to choose from - the most in any GTA game - with a total of 30 weapons in the Standard edition of the game, plus 3 available only in the Special and Collectors Editions. New weapons are continually released as part of the GTA Online updates.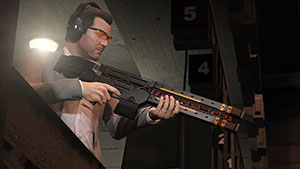 Weapons can be customized in GTAV and GTA Online
GTA 5 features a similar weapon wheel that was in previous Rockstar titles such as Red Dead Redemption and Max Payne 3. There are eight different slots within the weapon wheel that the player can choose from where you can store rifles, pistols, explosives and other miscellaneous items such as parachutes. GTA V also has gun customization which you can access via Ammu-Nation. Customizations include silencers, suppressors, laser sights, flashlights and more.
The weapon wheel is broken down into a series of sub-categories; after scrolling with the stick to the weapon type you want, left and right on the D-pad will cycle between additional individual weapons. The wheel will store all of the weapons you collect and you will never lose them, even if they run out of ammo or you get busted.
Below you will find a list of every weapon available in the game with details regarding the origins of the weapons and how they perform. Many thanks to TJGM for providing the stats, and please note that this guide is a work in progress.