GTA V for PC Officially Released
Tuesday, April 14, 2015 at 11:00 AM | Posted by
Kirsty
September 17th 2013 seems so long ago, doesn't it? Patience has prevailed as the day has finally arrived for the Grand Theft Auto PC community as GTA V has released worldwide on computer platform.
With stunning upgraded visuals and new features such as custom radio, additional music and the hotly anticipated Rockstar Editor, the PC version promises to be a delight!
Find below some important release day information:
Day 1 Patch
Whether you've downloaded digitally or you've obtained the 7 disc beast of a physical version, we're told there is 5GB release patch on install, so you may have some additional waiting time before playing. You can read more about this here on GTAForums.
Driver Updates
Before opening the game, you may wish to update your graphics card drivers. Click here for Nvidia and here for AMD, both of which have been optimised for GTA V.
Issues and Bugs
Now you know we all love Rockstar, but it's impossible for release day to go completely smoothly. We're hearing reports about stuttering, crashes and Social Club problems from some players. The best thing to do at the moment is a) have (just a little more) patience! and b) check Rocsktar PC support. There are pinned topics highlighting known issues or you can submit a ticket if you can't find what you're looking for; it's likely they are working on bug-fixing patches as we speak. Additionally, head on over to the PC section of GTAForums to report and share problems you've faced and discuss with other players.
Got 60FPS?
If you're wondering how well other players are performing, or what you'll likely to be able to play with your own specs f you haven't quite installed yet, share your average framerate with the community.
Snapaholics
If you're already in awe of the game and have taken a few hundred Snapmatics, why not share them? If angles and lighting is your thing, join the Professional Snapmatics weekly contest and share your artistic snaps, while all general screenshots can be shared right here.
Crew Up
With GTA Online available from day one, we've got the difficult choice of story mode or multiplayer on first playthrough. Whatever you pick, head on over to the GTAForums Recruitment forum if you're looking for crew mates or need some additional players for your own crew for once you get online. Heists will also be available from day one, so you'll need some trusty friends. Be sure to check out the GTAForums Official Crew as well if you want to wear our logo!
Keep checking back as we'll be reporting on updates and patches as and when they happen during the next few weeks!
GTANet Exclusive PC Screenshot from Rockstar
Sunday, April 12, 2015 at 08:00 AM | Posted by
Kirsty
Rockstar Games have just sent us across this exclusive PC screenshot to treat the GTANet and GTAForums community in preparation for the PC launch on Tuesday.
It shows Michael and Trevor kitted out in the Gruppe Sechs uniform, ready for a heist.
Thanks Rockstar!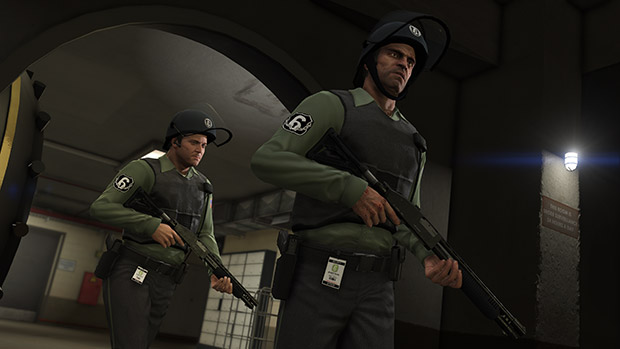 Find below links to other GTA fansites who have also received exclusive screenshots:
Getting ready for GTA V PC
Wednesday, April 8, 2015 at 09:00 AM | Posted by
Kirsty
That's right, we can say it without jinxing it: GTA V for PC will be launching in about 6 days time. Here are a few things to absorb while we wait:
What to expect
You can get a look at what is to come by watching the PC version in all its glory in the stunning 60 FPS trailer that was released last week. We've also been treated to some previews and unreleased screenshots today as we enter the final countdown. Find the links below and discuss on GTAForums.
Preload
The digital download of GTA V for PC became available yesterday on Steam and the Rockstar Games Warehouse. It'll allow you to download the core game files to save waiting on release day. It might be a tease as it sits in your library, but it's a good job as it comes in at a whopping 60GB. For those that prefer the physical version, you may want to check your letterbox is big enough as early pictures have shown the case looking a little chunky as it contains 7 discs! surely a record breaker?
Discuss the preload with the GTA V Steam community on GTAForums
Can I run it?
The PC requirements were released a few months ago, which you can find below. If you're still not sure if your graphics card is up to scratch or if your processor is powerful enough, head on over to the GTAForums community and post your own specifications; the community will be able to help give you a fair idea of what settings you might be able to run the game at.
Minimum specifications
OS: Windows 8.1 64 Bit, Windows 8 64 Bit, Windows 7 64 Bit Service Pack 1, Windows Vista 64 Bit Service Pack 2* (*NVIDIA video card recommended if running Vista OS)
Processor: Intel Core 2 Quad CPU Q6600 @ 2.40GHz (4 CPUs) / AMD Phenom 9850 Quad-Core Processor (4 CPUs) @ 2.5GHz
Memory: 4GB
Video Card: NVIDIA 9800 GT 1GB / AMD HD 4870 1GB (DX 10, 10.1, 11)
Sound Card: 100% DirectX 10 compatible
HDD Space: 65GB
DVD Drive
Recommended specifications
OS: Windows 8.1 64 Bit, Windows 8 64 Bit, Windows 7 64 Bit Service Pack 1
Processor: Intel Core i5 3470 @ 3.2GHZ (4 CPUs) / AMD X8 FX-8350 @ 4GHZ (8 CPUs)
Memory: 8GB
Video Card: NVIDIA GTX 660 2GB / AMD HD7870 2GB
Sound Card: 100% DirectX 10 compatible
HDD Space: 65GB
DVD Drive
GTA Online
...Will be playable from day one for PC and it'll support 30 player lobbies. All previously released updates, including the latest Heists DLC, will be available on launch. As a returning player, you will also receive the one-time bonus of transferring a character, your progression and money from a console platform to PC via the Rockstar Social Club.
Music will set you free
It's been confirmed in one of the previews today that GTA V for PC will have an "independent" soundtrack; that is, a streaming channel filled with all your of own music, and there is even an option to retain adverts and blurbs like a real Los Santos radio station for the true GTA experience. Rockstar have also added even more music with a new radio station called "The Lab".
Discuss on GTAForums what you will add to your very own Independence FM
Prepare for the 4k explosion
If there's anything else you need to find out or discuss, be sure to bookmark the GTA V for PC dedicated section on GTAForums. You can be sure the community will be very busy with all the latest information as soon as the game drops next week, and the GTA Mods community will be also on hand to offer much anticipated creations and support in the world of modding.